"Eating your own dog food" is the techy way of saying "practice what you preach". We have talked about the new or better "normal," and changing and adapting to things during the pandemic, but I want to bring this a bit closer to home and tell you about my Sunday morning Bible Study.  My Bible Study ran between 100 and 150 in attendance on a weekly basis.  It is what we would call a "mature" group of adults; we are fifty-five plus years old or, to some, just old.  When the lockdown came in March, our church streamed a Bible Study to adults, but our class just stopped.  Various individuals called and emailed one another, but it was like someone pushed the pause button on us.  We watched streaming services and studies, but interaction almost stopped. 
God's Word tells us in Hebrews 10:25 to "Forsake not the assembling of yourselves together…".  God has designed us to interact.  After six months of folks not interacting, emails, text messages and phone calls about how to start up and do more than just watch someone talk began to happen.  Folks were not ungrateful for what our church was doing, it was just time to do something more.  
ACTS Group had been involved in doing Zoom and Teams conferences and meetings for other churches since early on and had worked on concepts of doing micro-campuses with interactive worship and studies for over a year with some of our clients. So when I had some of the folks in our study contact me, I did not have to go far to find options.  Since I had the experience and it fit with what we were doing day to day, I was asked to put together a proof of concept.  We talked though the needs that our study had based on how we operated before COVID and decided on things that we still needed.  Those things were small groups, file sharing for prayer list and study notes, attendance, and communications.  Those requirements lead us to Teams.
Along the way our church decided it was time to open the physical doors again.  A meeting was set to bring leaders in to talk about having onsite classes and the limits.  When you have a class that is as big as a small church you can bet there is going to be a limit somewhere.   Sure enough, there was.  The largest meeting area that could be used when factoring in social distancing could only accommodate fifty people.   We had no clue how many to expect, but our class list had 200 plus names on it.  The church staff suggested doing a hybrid class mix of on site and online for larger classes like ours.  The church said they would provide the internet access and wi-fi, but the technology was the responsibility of the classes as the church had limited IT resources for a quick implementation.  We were being asked to "go live" in a bit less than a month.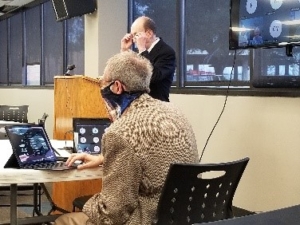 In the BC (Before COVID) world our Bible Study, even though it was large, was very interactive.  Everyone was encouraged to participate in discussion and ask questions.  We did not want to give that up and therefore a requirement of a hybrid class had to be that the online folks had to be able to see and hear the onsite folks and the onsite folks had to be able to see and hear the online folks.  The added challenge was that setup needed to be simple, and able to be setup and taken down in a few minutes as our meeting area was used by another large class.  I will not get into the tech weeds here, but that meant a camera on the leader, a wide-angle camera facing the class and special audio considerations.
Day one came the first Sunday of November.  We had fifty-four people onsite and twenty-five people online.  That means we started with seventy-nine on the first week.  Everything worked.  Meeting invites went out, Study notes went out and Teams instructions went out.  The second week was when the magic happened though.  Folks online started talking to folks onsite and folks onsite started talking to folks online.  We were a hybrid community of believers!   YES!