In recent days, many of us have tried things we have never done before. Perhaps working from home or waiting in lines wrapped around the store to get groceries. School districts extend spring break while evaluating online learning options and look at the possibility of students not returning to campus until the fall. Conferences and events are being canceled. The novel coronavirus has struck our communities in a variety of challenging ways. The spread of COVID-19 has forced many churches to close their physical doors and keep their congregations apart. In times like this it leads me to think, how can we leverage technology to keep our church communities together, even when we must physically be apart?
I have extensive experience in live streaming/web broadcasting, everything from school programs to football games and church services. At my home church, I was able to work with our media staff to make the transition to broadcasting our services online.   Equipped with an experienced team of camera operators, audio technicians, and equipment setup for broadcasting, the biggest difference was an empty sanctuary. I know for some churches this may be a daunting task. I wanted to write this blog post to help those of you who's church is not as experienced in live video production learn about some tools that are available.  These tools can help bring your church service to your community over the internet, even when it isn't possible to come together under one roof.
The first option I'll recommend is a simple option to allow a pastor to speak to their flock in live video.
Facebook Live
Most laptops have a webcam on the top, and using Facebook live, a pastor could deliver a live message or lead a Bible study. Zoom is another great tool that would allow other users to join in the discussion via live video as well, even from a cell phone or tablet with a camera.
To access Facebook live, login to your Facebook account, select the "…" menu under "create post" to reveal the following menu:
Select "Live Video"
On the next page, your web cam and default audio device should be populated:
You can tweak these settings if you have more than one camera or have a headset or external microphone plugged in.
You should see a video preview of what your web cam sees.
Ideally, choose a well-lit quiet space with little background distractions, and stay close to the camera. Use a table or stool to hold your computer still. The nice thing about video is people can see your expressions and non-verbal cues while you speak. Most people enjoy that more than seeing how many books are on the shelves in your study. Even if it is not comfortable to you, stay close to keep your image as big as possible. Remember the audience may be watching this on a small screen, like a cell phone.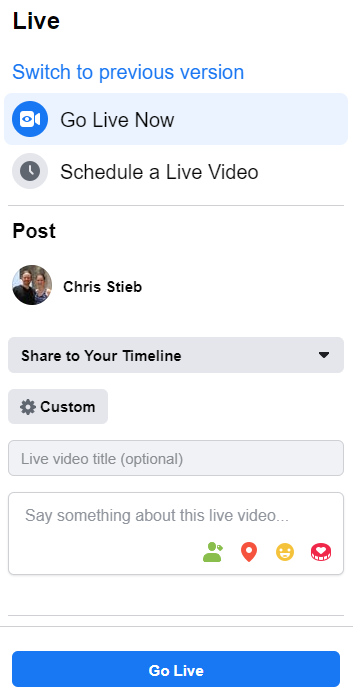 On the left pane, you can select a destination such as your church's page or your timeline, or even a group. Give the stream some context like a name and description, this is helpful for viewers watching it after the live stream has ended. If your church has a Facebook page, select "share to a page you manage" and then select the Facebook page for the church. This will allow anyone who follows the page to see the content and people don't all have to be your Facebook friend to access the video.
When you're ready, select "Go Live".
This method is very straight forward, and all you need is a device with a web cam. I wouldn't recommend putting a laptop in front of the stage and trying to hold a normal service "online". Instead use this option to present one or two people live. It's important to note that your viewers will not be required to have a Facebook account to view the stream.
Facebook Live using an external source/Encoder
Perhaps you want to take your normal service experience online, and use an external camera, audio from the sound board, and maybe even some graphics?
Facebook Live allows the use of external encoders to bring in more sophisticated production techniques.
Software like Wirecast or OBS Studio running on an extra computer allow mixing sources, such as external cameras, audio devices, and compositing graphics. OBS is free, and there is a great quick-start guide here on how to install and configure it. Inexpensive devices like the Blackmagic Design Intensity, or more pro level devices like the Blackmagic Web Presenter facilitate the connection of cameras and audio devices into the computer to then feed to your stream.
You could use existing video infrastructure in your sanctuary, and a video interface like the ones mentioned above to put on a more complex broadcast, using the empty sanctuary as a broadcast studio. Using a tool like Wirecast or OBS makes it possible to use more robust streaming platforms as well, such as the Wowza streaming cloud.  This is a paid option allowing full control over your stream and its destination, including embedding on websites and apps. Using a system like Wowza also allows for simulcasting to Facebook, YouTube, and your website, while pushing one stream out.
Tips for a quality broadcast
Change your thought process– think about the audience on the web, and the devices they will be watching your message on. Shooting for streaming is a little different than shooting for IMAG on the big screens in the sanctuary. The viewers online don't have the luxury of looking at the stage for context, so it must be provided for them. A mixture of wide and tight shots helps them feel a part of the broadcast, and hopefully more connected to the Word that is being shared.
Mind your (copyright) manners – or the platform may do it for you. Sites like Facebook Live and YouTube use algorithms to auto-detect copyrighted content (e.g. music played before service, or in a video clip) and can shut down a live stream because of it. If you must use music, try some royalty free tunes to keep your stream online and in the clear. You may also need a license to stream the live music performed by your church musicians.
Audio matters – sound is vitally important to the viewer experience! This is a shift in process for a lot of sound engineers as well. Mixing for the "room" is different than mixing for a stream. It's full sound capture- reproduction vs. reinforcement. Consider having your sound person listen on headphones to the mix, as that is what the viewers will hear. It may be necessary to mic instruments that are not normally mic'ed for reinforcement in the sanctuary, like drums or organs.  
Network and Bandwidth – consider Internet requirements and the network equipment on your church campus. If you can wire the streaming computer in to the network, that is generally a better option than using Wi-Fi. If you have a low bandwidth connection, limit the use of other systems while a live stream is taking place. If this becomes part of your long-term plan, consider redundancy in network firewalls, to provide uninterrupted connections. The ACTS group is happy to help design and build a robust and flexible network infrastructure equipped to support live streaming and remote access needs of the church staff.
I hope these tips can help you keep your church connected during these uncertain times, as well as help curb the community spread of COVID-19. The ACTS Group is here to partner with you. Feel free to reach out.
Remember, the church is the people, not the place, and Christianity has flourished under persecution, plague, war, and other trials for the last 2000 years. God is in control. Stay in prayer; stay connected to Him and your community.
Peace,
Chris